River Birch
| | | | | |
| --- | --- | --- | --- | --- |
| October 1999: | | July 2001: | | October 2002: |
On the positive side, the River Birch is an attractive, fast-growing tree.
On the negative side, it drops a truck-load of little limbs for us to pick up
and the landscaper planted it too near the house and garage, requiring us to
have to keep the limbs trimmed back off the garage and to worry about a big
limb (or even the tree itself) crashing through the house.

Actually, with dozens of trees on our lot, we didn't even need this one
and I would not recommend it to others.

As seen below, we had the tree limbed up. This has solved several problems: the limbs are off the garage, the little limbs were dropping from lower limbs because they were not getting enough sunlight (according to the tree expert) and a Crape Myrtle below the River Birch will have more room to grow (it was getting seriously cramped and we thought we were going to have to take drastic measures).

Oh, yeah -- and we think the tree looks better now. It has a very decorative bark which is now easier to see.
| | | |
| --- | --- | --- |
| April 30, 2009: | | Aug.29, 2009, after thinning: |



While trimming up the tree helped, having such a tree right up against the house and over the garage
created too many problems. Plus the tree just creates too big a mess by dropping twigs and leaves.

On top of that, during the big ice storm at Christmas 2012, a couple of the big, high-up limbs broke.
Rather than pay someone to climb the tree to cut limbs, we chose to have the whole tree removed.
Dec. 26, 2013:

Although the left and right branches were bent by the ice and snow, the ones which broke are at the back of the tree, including one which blocked the steps to the deck stairs.

Feb. 8, 2013:




We had the stump ground down several inches below the soil level then mounded up compost on top where we planted some angel trumpets and
some other, smaller plants:.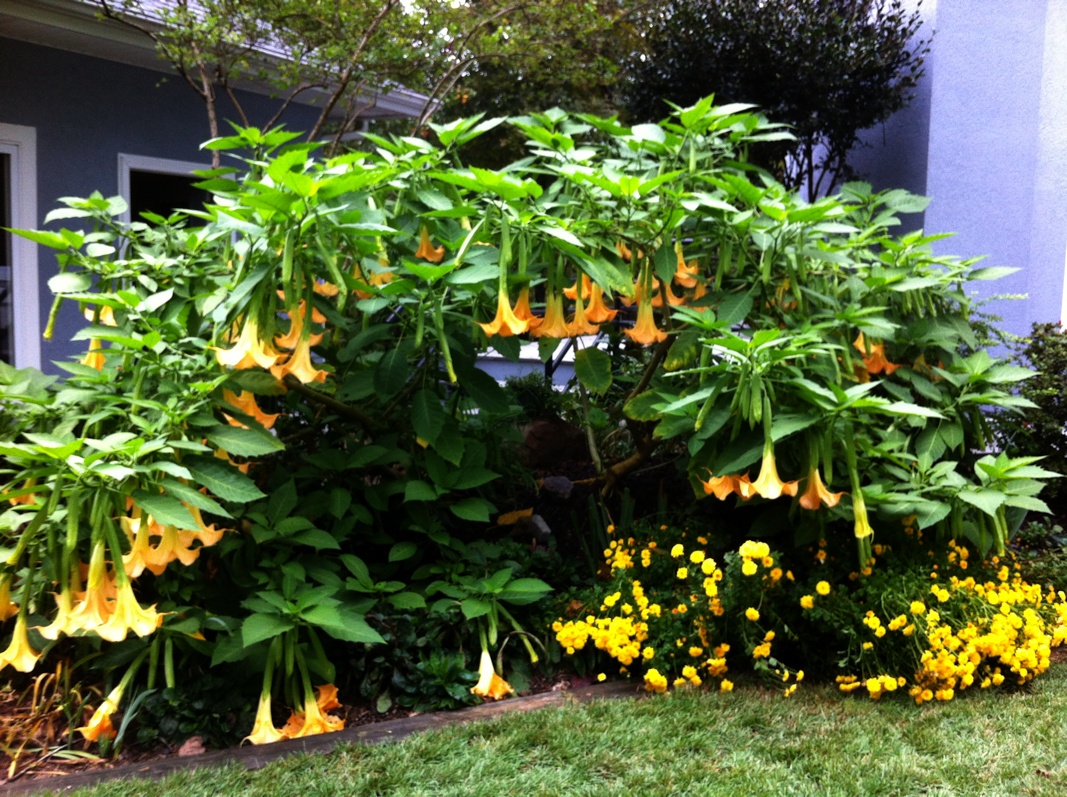 Here is a video on how to kill a stump.




---
Provide feedback
---